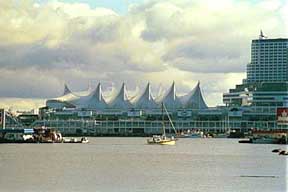 Once a month, CAANS-Vancouver organizes an evening meeting for its members to focus on a specific topic. A guest speaker (either a visiting lecturer from the Netherlands, one of the members themselves or any distinguished person with expertise in the Dutch cultural realm who is visiting, living or working in the Vancouver area) presents a lecture, sometimes accompanied by slides or other illustrative material, after which discussion follows. Topics are wide-ranging.
---
Tot ons genoegen delen we U mede dat op
maandag 13 maart a.s. (dus niet een donderdag!)
om 19:00 uur in UBC Robson Square Theatre te Vancouver
zal spreken in a public UBC lecture
 Professor Dr. Jacqueline Cramer van de Universiteit te Utrecht  over
        'Towards a Circular Economy: The Case of the Amsterdam Metropolitan Area'
Van 5:30-7 pm, voorafgaand aan de lezing, biedt het Nederlandse Consulaat een receptie aan waar professor Cramer aanwezig zal zijn.
Deze uitnodiging ontvangt u per aparte email en u wordt verzocht to RSVP voor 8 maart! Plaats is beperkt, dus niet te lang wachten. 
(Neem de lift vanaf Hornby/Robson of vanaf de parkeergarage en ga naar Classroom Level)
Jacqueline Cramer is strategic advisor of the Utrecht Sustainability Institute/Utrecht University and member of the Amsterdam Economic Board, particularly in charge of the circular economy. Moreover, she is director of the consultancy firm 'Sustainable Entrepreneurship; strategy and innovation consulting'.
She was previously Minister of Housing, Spatial Planning and the Environment for the Labour Party (February 2007 – February 2010). Her background is primarily related to industry, working as a consultant for many years with more than 150 companies on the implementation of sustainable entrepreneurship and corporate social responsibility. Moreover, she has worked as a part-time professor since 1990. She was and still is member of various (inter)national advisory boards of the government, industry and non-profit organizations.
This lecture is the fifth in a five-part series of public lectures that accompany the course Leading the Way to a Low-Carbon Future. This course and lecture series has been made possible by the Killam Trusts.
---
Op woensdag 15 maart  van 12-3 pm organiseert het Nederlandse Consulaat een verkiezingslunch.
U ontvangt een aparte uitnodiging hiervoor. Ook moet u daarvoor (gratis) registreren voor een bepaalde datum.
---
Op 18 januari j.l. sprak voor ons Dr Vanessa Timmer over Circular Lighter Cities: How Nederland is pioneering Sustainable Urban Environments
Hier volgt haar verslag:
Vanessa spoke for CAANS about the role of cities in creating a circular economy. Ellen MacArthur Foundation defines the circular economy as one that is restorative and regenerative by design. It maximizes the value of resources in the economy, minimizes the use of finite and non-renewable resources, and eliminates waste. Cities can play a role by aligning policies, incentives and markets of goods and services toward sustainability. The Netherlands is pioneering many ways to create light, green cities including through new building and product design that lasts and adapts to new contexts, and by encouraging the sharing economy. There are new business models emerging, selling services rather than products – for examples, Philips providing lighting as a service at Schiphol Airport. Amsterdam as a city is taking actions to become a Circular City including in the construction and waste energy systems. This is all supported through the European Union Circular Economy strategy and policy context.
Resources:
Ellen MacArthur Foundation – https://www.ellenmacarthurfoundation.org/
Philips – http://www.philips.com/a-w/about/news/archive/standard/news/press/2015/20150416-Philips-provides-Light-as-a-Service-to-Schiphol-Airport.html
Circular Amsterdam – https://www.amsterdam.nl/bestuur-organisatie/organisatie/ruimte-economie/ruimte-duurzaamheid/making-amsterdam/circular-economy/report-circular/
European Union Circular Economy Strategy – http://ec.europa.eu/environment/circular-economy/index_en.htm
Vanessa Timmer is the Executive Director of One Earth, a nonprofit 'think and do tank' that focuses on advancing sustainable consumption and production patterns. She is also the co-host of Metro Vancouver 'The Sustainable Region' TV show.
Wij willen Vanessa ook hartelijk danken voor haar rol in de organisatie van Professor Cramer's bezoek aan Vancouver!
---
Dit jaar heeft de jaarvergadering plaatsgevonden op donderdag 9 februari j.l.
Het bestaande bestuur is herkozen met algemene stemmen.
Annette Dorrepaal  voorzitster
René Mutsaerts penningmeester
Vacant programma coordinator
Saskia Stomps medelid
Ineke van Grutink medelid
---
In memoriam:
Tot onze droefenis delen we u mede dat op 13 februari ons medelid Gijs Verster vreedzaam is overleden. Hij was vele jaren CAANS lid en we zullen zijn gezellige aanwezigheid missen. Wij wensen Willemien veel sterkte toe met haar verlies.
---
Mededelingen
Graag willen we ons volgende nieuwe lid verwelkomen: Jan Jansen
Saskia Stomps heeft een 'Encyclopedie van de Muziek' aan te bieden,  ( 2 delen, hardcover, by Arntzenius, Badings, Schallenberg and Smits van Waesberghe,  uitgeverij Elzevier, 1957 (Winkler Prins stichting).
Indien geinteresseerd email Saskia voor meer informatie: saskiastomps@telus.net
---
En vergeet U niet dat Uw lidmaatschap in januari betaald moet worden aan René Mutsaerts. Op de vergadering en ook natuurlijk altijd met een postzegeltje erop met de post!! De cheque dient uitgeschreven te worden aan CAANS.
| | | |
| --- | --- | --- |
| Gewoon lidmaatschap | $45 pp | twee personen $65 |
| 65+ | $40 pp | twee personen $60 |
| Student | $25 | |
René Mutsaerts
302 – 1972 Bellevue Avenue, West Vancouver,   B.C.  V7V 1B5
Tel. 604-926-2649
---
We hopen velen van U te zien bij de volgende bijeenkomsten en vergeet U niet de data in Uw agenda te schrijven.
Namens CAANS,  Annette Dorrepaal