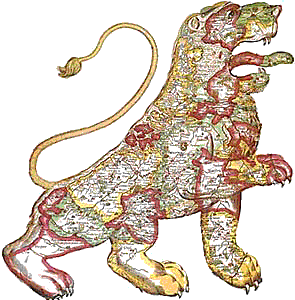 "Leo Belgicus" (c.1620), a map of the Low Countries
by Pieter van den Keere, brother-in-law of Jodocus
Hondius, a leading 17th Century mapmaker-publisher
(original in British Museum).
These links are intended as an aid for those who want to find information about the Low Countries.
Under the heading Culture of the Low Countries you will find extensive links to the Language, Literature, History, Geography, Architecture, Music, and Transport, of this important region of Europe, as well as information of a more general nature.
You will also find links to the Governments of Belgium, the Netherlands, and Luxembourg and their diplomatic representations in Canada.
Under News from the Low Countries you will find links to the major newspapers, magazines, radio and television stations in the region.
Under Dutch Ethnic Press you will find information about Dutch language newspapers published in Canada and the U.S.A.
Publications about Netherlandic Presence in Canada presents you with a list and descriptions of books about and/or by Dutch and Belgians in Canada
Under Our Friends you will find information about related fields of study